In the FS11 days I used to make mods. Made a few maps, trailers and frontloader tools. Life took over and didn't play FS for years. The game has changed a lot, and modding is a little more complicated now, but I decided to try my hand at it again with this mod.
Because I don't like running the tractor with weeder through a freshly germinated field, I decided to make a garden tool that is designed for weeding. In small scale organic farming, this is what is used to remove weeds. It is a blade, attached to a wooden handle. It looks like a hoe, but is smaller and more delicate.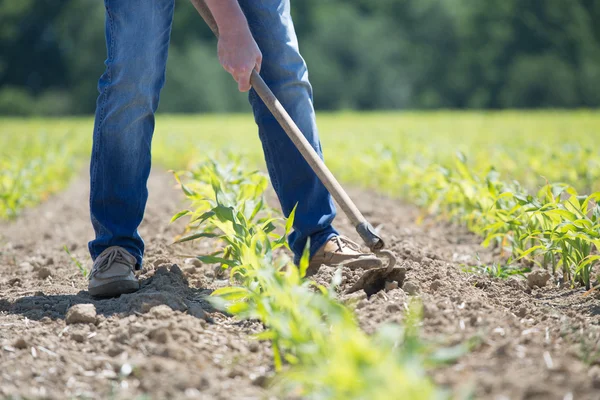 With a working width of 0.3m at the moment, this is obviously aimed at the small scale farmer. Also, this mod will only really be useful in conjunction with Seasons. Removing a complete field of weeds with this, is a huge job. However, removing Seasons' patchy weeds is very easy and rather quick. This means it might even come in handy on larger scale farms.
In real life you can use this tool even when crops are fully grown, and since this game is a simulator I tried to replicate this. This weeder can be used up to growth stage 4, where as the default mechanical weeders can only be used up to growth stage 2.
Price will be 43€, because that's the actual price for this tool in the real world. Weight is 900gr, also the real weight of this tool.
The model was made in Maya2020, and I tried to make it low polycount to improve performance ingame. This is a very small mod, and it's impact on performance should be in proportion to that. Textures were made in photoshop, with a specular map to simulate the matte finish of wood vs shiny finish of metal. I know it's overkill..
It works as an object that you pick up, then you rotate it and point it at the ground. Walk around and it will remove weeds. The rigid body dynamics are set up to ease handling of the tool when picked up. For example, it is possible to run when holding this, something which is not always possible with picked up objects.
Currently the mod is ingamed, and works error free. Now comes finetuning, adding details (possibly particles, wearable, ...) and optimizing textures. Current filesize is 1.09Mb. The plan is to release it on the ModHub, and also make it available for console.
Video and ingame pictures coming soon.
MOD IS UPDATED:
https://www.farming-simulator.com/mod.p ... tle=fs2019