A farm blog trying to test and gather data on FS22 while scoping out how hard economy looks like. Hopefully mostly told in character, but probably technical details here and there from what I find.
After a terrible wildfire and a hurricane to follow, my farm in Ravenport was bust. Time to move out. Sold what I could get any money for and hitched a ride with a trucker going west. Lets see if we can find someplace with fairer weather in the mid-west. Was dropped off here at Elms Creek. Looks like a nice little place to start up an operation.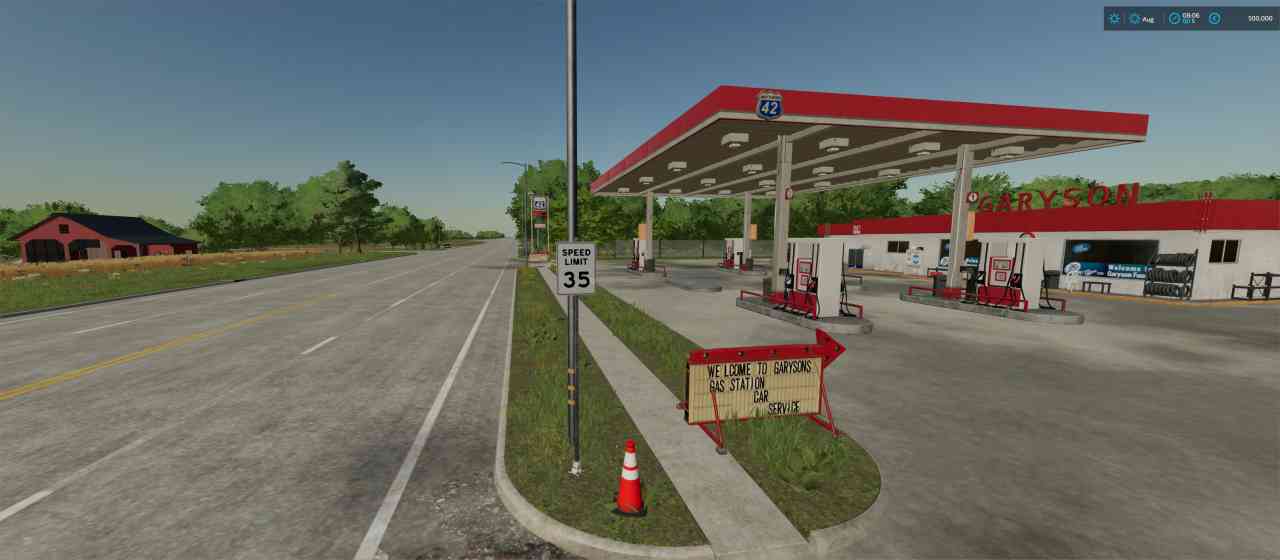 We've got half a mill in our bank account, but also got a loan of $200.000, which I guess we'll pay off as soon as we find a banker. That leaves $300.000 to get a farm operation going, and that will be an extremely tight budget. Several farm owners are willing to sell here, but with the prices, I will hardly get any farmable land with the farmyards for sale, and they don't even have any buildings I can reuse for any other purpose than a roof to cover gear beneath. To begin with, I think I need to rough it until I can affort to set up a main camp. Scoping out fields for sale, I find that what the land office calls field #41, looks to be almost 5 acres, flat, square, fairly cheap per acre compared to most of the fields around here, and hopefully in a price range we can manage. That'll be $150.336 though, leaving less than $150.000 to get equipment to actually farm the land.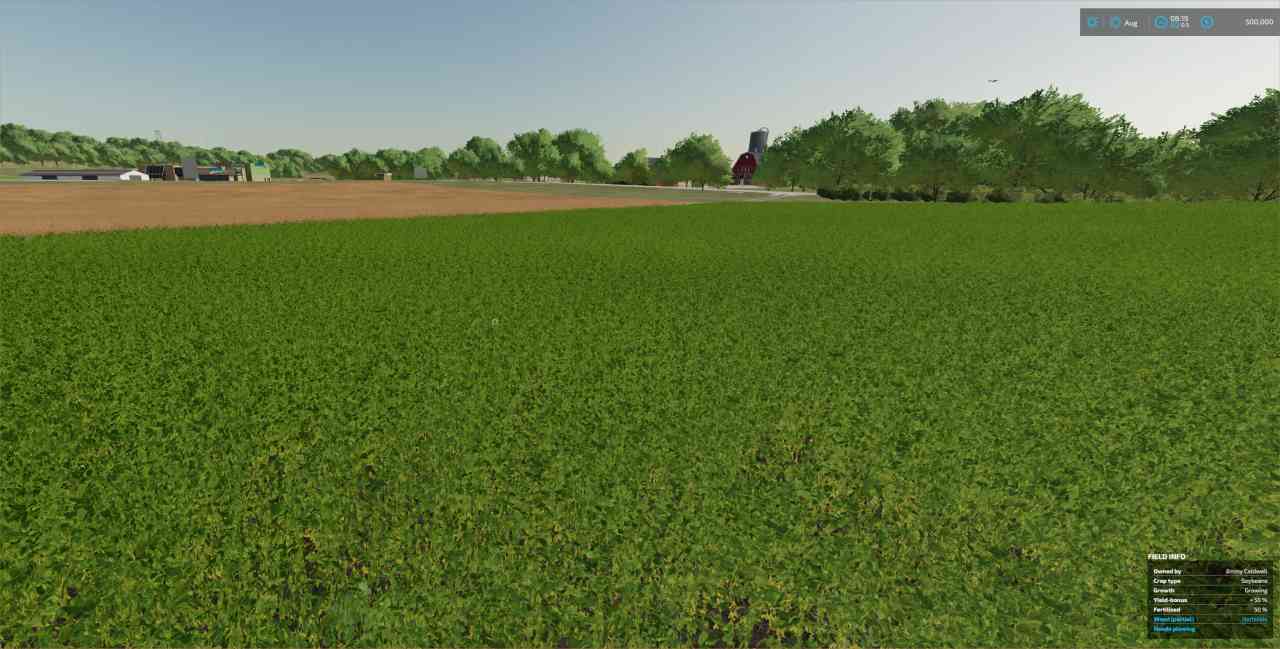 The field currently is growing soybeans, which fits us nicely. At least we don't have to get equipment to deal with straw yet. First things first, we'll need a harvester to harvest it. Looking into the local shop, their cheapest harvester is a Rostselmash Nova 330 for $75.000 with a header for $25.000. That's $100.000 alone. Even if we get the cheapest tractor with the cheapest trailer in there, we're already at $150.500. That'll allow us to harvest, but to grow more we'll need quite a bit more equipment. At the very least we'll need a plow and a seeder, but we should also get something to fertilize the field.
So what do we do? Do we lease equipment? Looking at my bank interest, we're paying 4% yearly interest on our loan, which I think can be extended if worst comes to worst.. If we lease a harvester with a header, even for just an hour, we'll end up paying 5.1% of what the equipment is worth just for that. Granted, we might not need to pay for fuel and maintenance, but still, it looks like leasing will always be more expensive than taking up a loan, if we need the equipment at least an hour every year.
We could of course just take up the loan, but the profit seems very marginal here, so we're afraid it might eat up some or even all and then some of the profit. We don't yet have hard numbers of what our incomes and expenses will be, but we will like to try and avoid loaning as much as possible until we see the profit margin is within reason.
But then we see that there are actually a few pieces of used vehicles for sale too.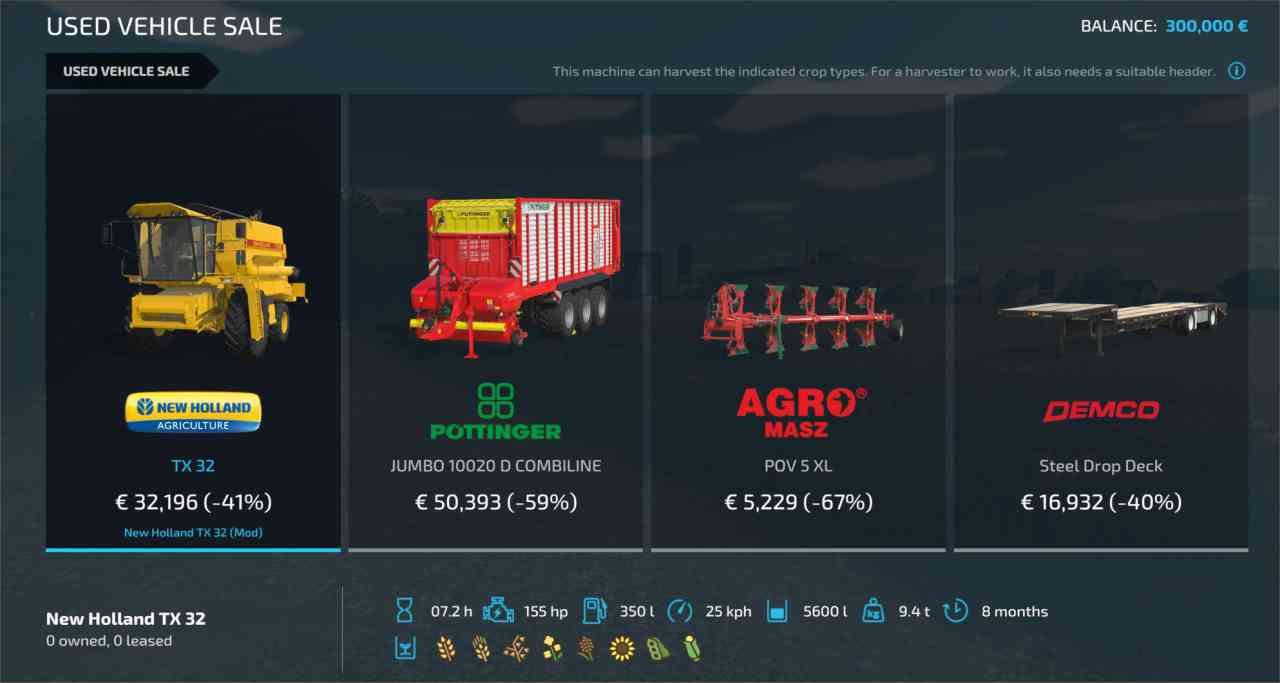 The economy is so tight on hard in FS22. Maintenance costs are through the roof, and there's additional gear needed to handle stones and possibly rolling/munching. In addition some of the cheapest gear from FS19 is no longer available as an option in FS22. So ended up including a few mods with subpar equipment, on par with what was available in FS19, like the TX32 here.
A cheap harvester for sale used.. That was amazingly lucky.. Also a simple plow that will likely come in handy. Sadly only 3 pieces of equipment in the used store, and it seems the stock only replenish about once a month. While waiting for our field to be ready for harvest though, we find some more gear available in October.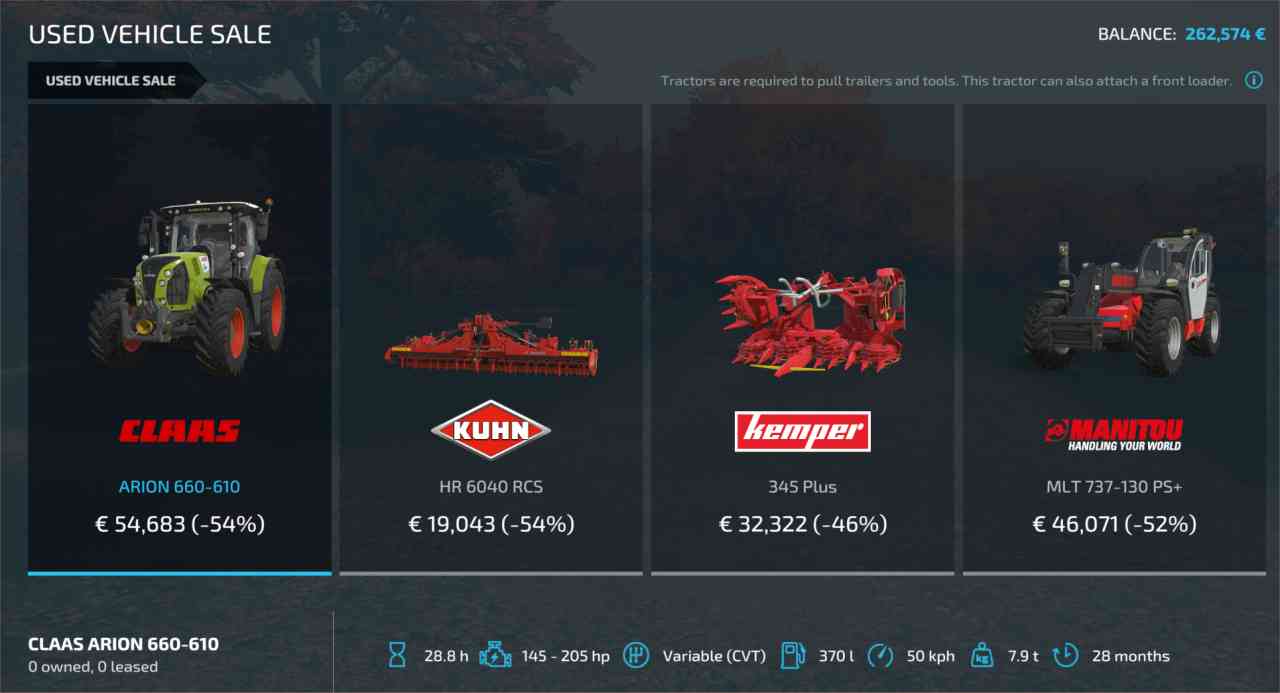 What's a Claas tractor doing out here? Never mind, as it's looking like a great option for us. Granted, it is a bit more expensive than the cheapest options available here at $39.000, but it has 145 hp and can later be upgraded, and in addition also can equip narrows, have front 3 point and PTO and can also use a front loader. A scoop ;D
We repair the harvester and the tractor immediately. $1027 to repair the harvester and $480 to repair the tractor. They weren't in too bad shape to begin with. The harvester was only 11 months old, and the tractor 2 years and 5 months.

At this time we need to start harvesting our field, so we buy a new TX32 header and a trailer. We go for an Orkel TX130
(From Orkel TX130 mod, just as a variation to the Strautmann)
. It looks flexible for various use cases, and got a non swirling axle, so we can manage to back it up. And we can get it for $9.500, just $500 more than the Strautmann. After that we're left with $26.545 credits. Not much at all :/.. Well.. Lets have fun harvesting and think about economy later.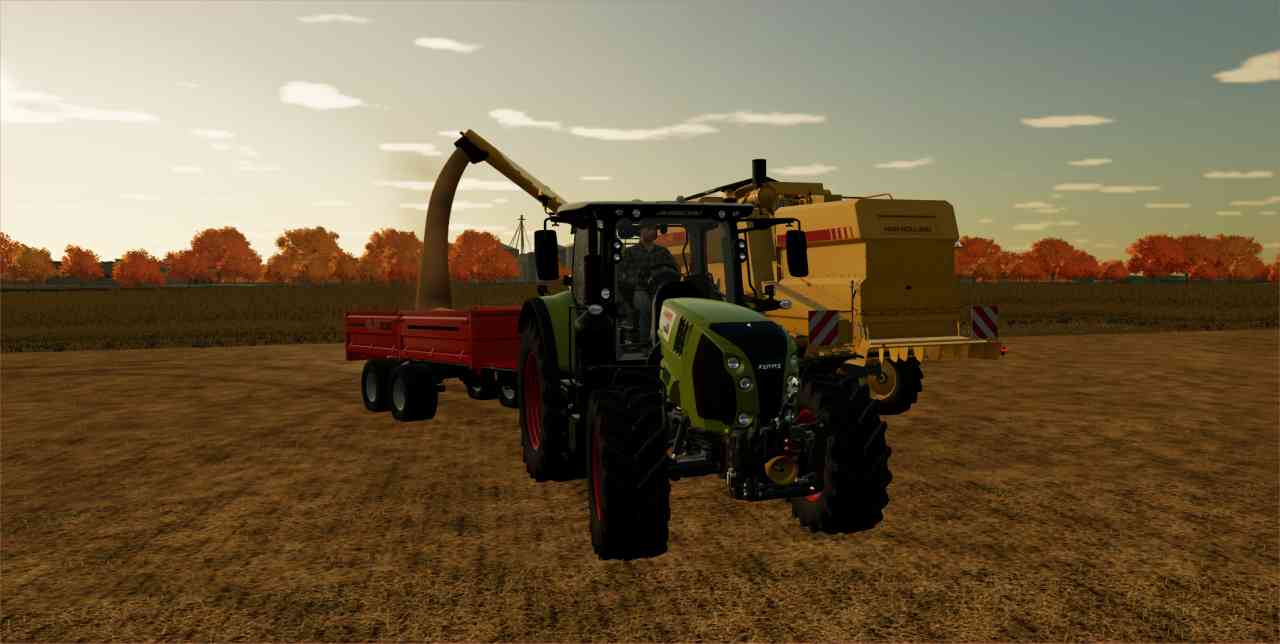 Our first harvest ends up gathering 15968 liters of soybeans. Hopefully this should net us more than $16.000 next summer when we expect the soy prices to reach an annual top. Without any farm for ourself yet, we'll be storing it in the public railway silo. The town wants new farmers to the area and are letting us use it for free until we are established. Their railroad aren't transporting as much goods as it used to, so they have free capacity.
We measured our field to 1.945 hectares
(threshedHectares from farms.xml in savegame)
, and accounting for the state of the field we harvested, we estimate soy yield to be 4487 liter/hectares
(Before adjusting for yield bonuses)
.
After the harvest, we repaired our equipment. $98 for the tractor, $3 for the trailer, $39 for the harvester and $13 for the header.
I made a post
viewtopic.php?p=1470215
that goes into details on maintenance cost, but basically, repair is a lot cheaper if you repair often, and used gear is especially cheap, as repair cost for some reason scales of the rebated price and not the new price there.
We see there's a used mulcher available in the store. Wonder if we should buy it. It looks like a good deal, but then a mulcher we can do without for a while. They say it can give another 2.5% bonus yield. If we plant soybeans again next year, our yield estimate should say we'll get 8727 liters of soy before accounting for yield bonus. 2.5% of that is 218 liters of soy, and that is only worth around $2200 or so. In addition mulching will cost maintenance and fuel for tractor and mulcher, so the profit gain will be considerably less. On the other hand, the mulcher for sale is only $10.535, so even if we finance it with a loan, the yearly interest of that will be only $421. We hope that there will be more than that left of the $2200 profit, so we're buying the mulcher to see if we can make a few dollars extra. (A Knoche Speedmax 560)